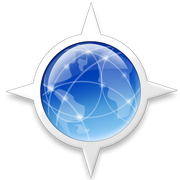 Camino is a free, open source, GUI-based Web browser based on Mozilla's Gecko layout engine and specifically designed for the Mac OS X operating system. In place of an XUL-based user interface used by most Mozilla-based applications, Camino uses Mac-native Cocoa APIs.
As Camino's aim is to integrate as well as possible with the Mac OS, it uses the Aqua user interface and integrates a number of Mac OS X services and features such as the Keychain for password management and Bonjour for scanning available bookmarks across the local network. Other notable features include an integrated pop-up blocker and ad blocker, and tabbed browsing that includes an overview feature allowing tabs to be viewed all at once as pages.
The browser is developed by the Camino Project, a community organization. Mike Pinkerton has been the technical lead of the Camino project since Dave Hyatt moved to the Safari team at Apple Inc. in mid-2002.
Version compatibility
Operating system
Latest version
Gecko release
Mac OS X
v10.1
0.8.5
1.7.6[1]
v10.2.8
1.0.6
1.8.0.13[2]
v10.3.0
1.5.5
1.8.1.12[3]
v10.3.9
1.6.11
1.8.1.24[4]
v10.4
2.0.5
1.9.0.20[5]
v10.5
2.0.5
1.9.0.20
v10.6
2.0.5
1.9.0.20
References
Ad blocker interference detected!
Wikia is a free-to-use site that makes money from advertising. We have a modified experience for viewers using ad blockers

Wikia is not accessible if you've made further modifications. Remove the custom ad blocker rule(s) and the page will load as expected.