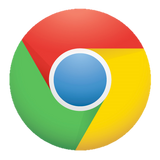 Google Chrome is a web browser developed by Google that uses the WebKit layout engine and application framework. It was first released as a beta version for Microsoft Windows on September 2 2008, and the public stable release was on December 11 2008. The name is derived from the graphical user interface frame, or "chrome", of web browsers.
In September 2008, Google released a large portion of Chrome's source code, including its V8 JavaScript engine, as an open source project entitled Chromium. This move enabled third-party developers to study the underlying source code and help port the browser to Mac OS X and Linux.
External Links
See Also
Ad blocker interference detected!
Wikia is a free-to-use site that makes money from advertising. We have a modified experience for viewers using ad blockers

Wikia is not accessible if you've made further modifications. Remove the custom ad blocker rule(s) and the page will load as expected.