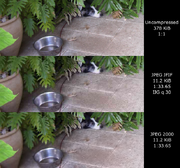 JPEG 2000 is an image compression standard and coding system. It was created by the Joint Photographic Experts Group committee in 2000 with the intention of superseding their original discrete cosine transform-based JPEG standard (created in 1992) with a newly designed, wavelet-based method. The standardized filename extension is .jp2 for ISO/IEC 15444-1 conforming files and .jpx for the extended part-2 specifications, published as ISO/IEC 15444-2. The registered MIME types are defined in RFC 3745. For ISO/IEC 15444-1 it is image/jp2.
File extensions can also be .j2k, .jpf, .jpm, or .mj2.
Aims of the standard
While there is a modest increase in compression performance of JPEG 2000 compared to JPEG, the main advantage offered by JPEG 2000 is the significant flexibility of the codestream. The codestream obtained after compression of an image with JPEG 2000 is scalable in nature, meaning that it can be decoded in a number of ways; for instance, by truncating the codestream at any point, one may obtain a representation of the image at a lower resolution, or signal-to-noise ratio – see scalable compression. By ordering the codestream in various ways, applications can achieve significant performance increases. However, as a consequence of this flexibility, JPEG 2000 requires encoders/decoders that are complex and computationally demanding. Another difference, in comparison with JPEG, is in terms of visual artifacts: JPEG 2000 produces ringing artifacts, manifested as blur and rings near edges in the image, while JPEG produces ringing artifacts and 'blocking' artifacts, due to its 8×8 blocks.
JPEG 2000 has been published as an ISO standard, ISO/IEC 15444. As of 2010[update], JPEG 2000 is not widely supported in web browsers, and hence is not generally used on the World Wide Web.
Ad blocker interference detected!
Wikia is a free-to-use site that makes money from advertising. We have a modified experience for viewers using ad blockers

Wikia is not accessible if you've made further modifications. Remove the custom ad blocker rule(s) and the page will load as expected.