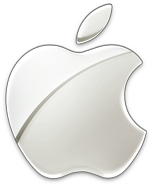 The Mac, or Macintosh, is a series of several lines of personal computers designed, developed, and marketed by Apple Inc. The first Macintosh was introduced on January 24, 1984; it was the first commercially successful personal computer to feature a mouse and a graphical user interface rather than a command-line interface. The company continued to have success through the second half of the 1980s, only to see it dissipate in the 1990s as the personal computer market shifted towards IBM PC compatible machines running MS-DOS and Microsoft Windows.
Apple consolidated its multiple consumer-level desktop models years later into the 1998 iMac all-in-one. This proved to be a sales success and saw the Macintosh brand revitalized, albeit not to the market share level it once had. Current Mac systems are mainly targeted at the home, education, and creative professional markets. They are: the aforementioned (though upgraded and modified in various ways) iMac and the entry-level Mac mini desktop models, the workstation-level Mac Pro tower, the MacBook, MacBook Air and MacBook Pro laptops, and the Xserve server.
Production of the Mac is based on a vertical integration model in that Apple facilitates all aspects of its hardware and creates its own operating system that is pre-installed on all Mac computers. This is in contrast to most IBM PC compatibles, where multiple sellers create hardware intended to run another company's operating software. Apple exclusively produces Mac hardware, choosing internal systems, designs, and prices. Apple does use third party components, however. Current Mac CPUs use Intel's x86 architecture; the earliest models (1984–1994) used Motorola's 68k and models from 1994–2006 used the AIM alliance's PowerPC. Apple also develops the operating system for the Mac, currently Mac OS X version 10.6 "Snow Leopard". The modern Mac, like other personal computers, is capable of running alternative operating systems such as Linux, FreeBSD, and, in the case of Intel-based Macs, Microsoft Windows. However, Apple does not license Mac OS X for use on non-Apple computers.
Versions
The current version is the iMac which uses Mac OS X Snow Leopard as its operating system.
Ad blocker interference detected!
Wikia is a free-to-use site that makes money from advertising. We have a modified experience for viewers using ad blockers

Wikia is not accessible if you've made further modifications. Remove the custom ad blocker rule(s) and the page will load as expected.