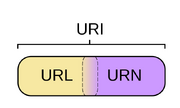 A Uniform Resource Identifier is a string of characters used to identify a name or a resource on the Internet. Such identification enables interaction with representations of the resource over a network (typically the World Wide Web) using specific protocols. Schemes specifying a concrete syntax and associated protocols define each URI.
One can classify URIs as locators (URLs), or as names (URNs), or as both. A Uniform Resource Name (URN) functions like a person's name, while a Uniform Resource Locator (URL) resembles that person's street address. In other words: the URN defines an item's identity, while the URL provides a method for finding it.
The ISBN system for uniquely identifying books provides a typical example of the use of URNs. ISBN 0486275574 (urn:isbn:0-486-27557-4) cites unambiguously a specific edition of Shakespeare's play Romeo and Juliet. To gain access to this object and read the book, one needs its location: a URL address. A typical URL for this book on a Unix-like operating system would be a file path such as file:///home/username/RomeoAndJuliet.pdf, identifying the electronic book saved in a file on a local hard disk. So URNs and URLs have complementary purposes.
Ad blocker interference detected!
Wikia is a free-to-use site that makes money from advertising. We have a modified experience for viewers using ad blockers

Wikia is not accessible if you've made further modifications. Remove the custom ad blocker rule(s) and the page will load as expected.